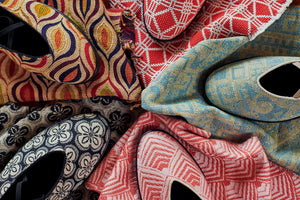 My Style
Regular price
$89.95
$0.00
Design your look – customize your style. Need to match an outfit for a special occasion? or simply add a unique finish to your favorite ensemble? Perhaps you just love having your own look, your way.
You pick the fabric - we'll make your one-of-a-kind àpropos© pair of comfortable shoes.
What we need: Minimum of one-yard or meter of fabric per pair of shoes. Fabric must be upholstery weight or tapestry weight (usually 6-8 ounces per yard) Open weaves (fabrics you can see through easily) are not suitable. Select your complementing shoe trim: Beige/Black/Brown, and strap color: Beige/Black
MY STYLE shoes are non-returnable, non-refundable. New customers should consider a prior purchase of àpropos© shoes to assure perfect sizing of their one-of-a-kind model
Quality construction with a pillowy soft insole that cushions your feet
Durable, street-worthy outsole to absorb the pavement
Fully lined in MicroDry© to keep your feet cool and dry in their non-binding comfort.
Special Engarde® protection also helps to absorb odor
Machine washable in a cold/delicate cycle followed by air drying only.
Use your largest shoe size in your closet or sneaker size, adjusted for sock thickness (apropos' performance lining is selected to provide barefoot comfort and ease). Our shoes accommodate all types of foot shapes, from narrow (AA) through wide C widths, and even D widths with our assistance.
Our fabrics range from Loose Weave to Medium Weave to Tight Weave. Loose Weaves are more responsive to shape and movement, while Tight Weaves produce a more snug fit. Wide feet may benefit from Loose Weaves, while narrow feet may prefer Tight Weaves.
With any of the styles, there should be a thumbnail of space remaining in the toe.
If your feet are D width or you have bunions, you may order 1/2 size larger for optimal fit. Our shoes do not accommodate E-width feet.
If you have hammer toes, please request a high-toe box construction.