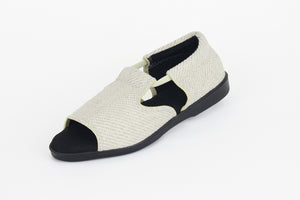 Sandpiper SE
Regular price
$68.95
$0.00
Solid off-white cotton, softly textured.

Experience the relaxed ease and breathability of our off-white, open toe sandal .  It's seamless blend of style, comfort, and function make its neutral color a perfect addition to the Sand-elles (SE) collection.

Features secure side-to-side color-matching elastic for lateral support. Our patterns are designed with active heel grip to secure your heel as you walk, and elastics are soft and non-binding.
Quality construction with a pillowy soft insole that cushions your feet
Durable, street-worthy outsole to absorb the pavement
Fully lined in MicroDry© to keep your feet cool and dry in their non-binding comfort.
Special Engarde® protection also helps to absorb odor
Machine washable in a cold/delicate cycle followed by air drying only.
Use your largest shoe size in your closet or sneaker size, adjusted for sock thickness (apropos' performance lining is selected to provide barefoot comfort and ease). Our shoes accommodate all types of foot shapes, from narrow (AA) through wide C widths, and even D widths with our assistance.
Our fabrics range from Loose Weave to Medium Weave to Tight Weave. Loose Weaves are more responsive to shape and movement, while Tight Weaves produce a more snug fit. Wide feet may benefit from Loose Weaves, while narrow feet may prefer Tight Weaves.
With any of the styles, there should be a thumbnail of space remaining in the toe.
If your feet are D width or you have bunions, you may order 1/2 size larger for optimal fit. Our shoes do not accommodate E-width feet.
If you have hammer toes, please request a high-toe box construction.